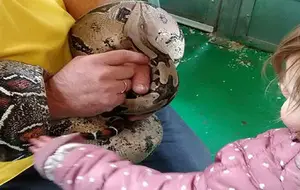 You may be feeling emotionally vulnerable.
You think something bad can happen to your daughter, anytime.
If this is a descriptive dream, it can reflect your genuine concern that something bad can happen to your daughter. You may feel that it is exposed to potential and harmful situations. Or, in this line of interpretation, the dream can reveal your fear that your relationship with your daughter is deteriorating and somehow you need to reconnect emotional with her again. Perhaps your dream expresses your feeling of not being the 'good' mother you want -or think- to be.
At the internal level, it is possible that the snake is representing something negative about yourself (personal traits, attitudes, habits) that you think is not the most appropriate or healthy for your daughter. I invite you to look at yourself, and try to find anything on your character, conduct or personality that might come to pose a danger to your daughter, as your bad mood or character, or perhaps long periods of absence from home.
It is possible that this dream expresses a strong sense of vulnerability or weakness in some aspect of the conscious life of the dreamer. In fact, this dream experience may indicate a deterioration of its feminine or emotional aspects on her that needs to be protected.